Do you want to tap into inner balance and harmony?
Does teaching others how to destress, recenter, and access the blissful state that is Flow sound, well, blissful?
We can get you there. Your first step: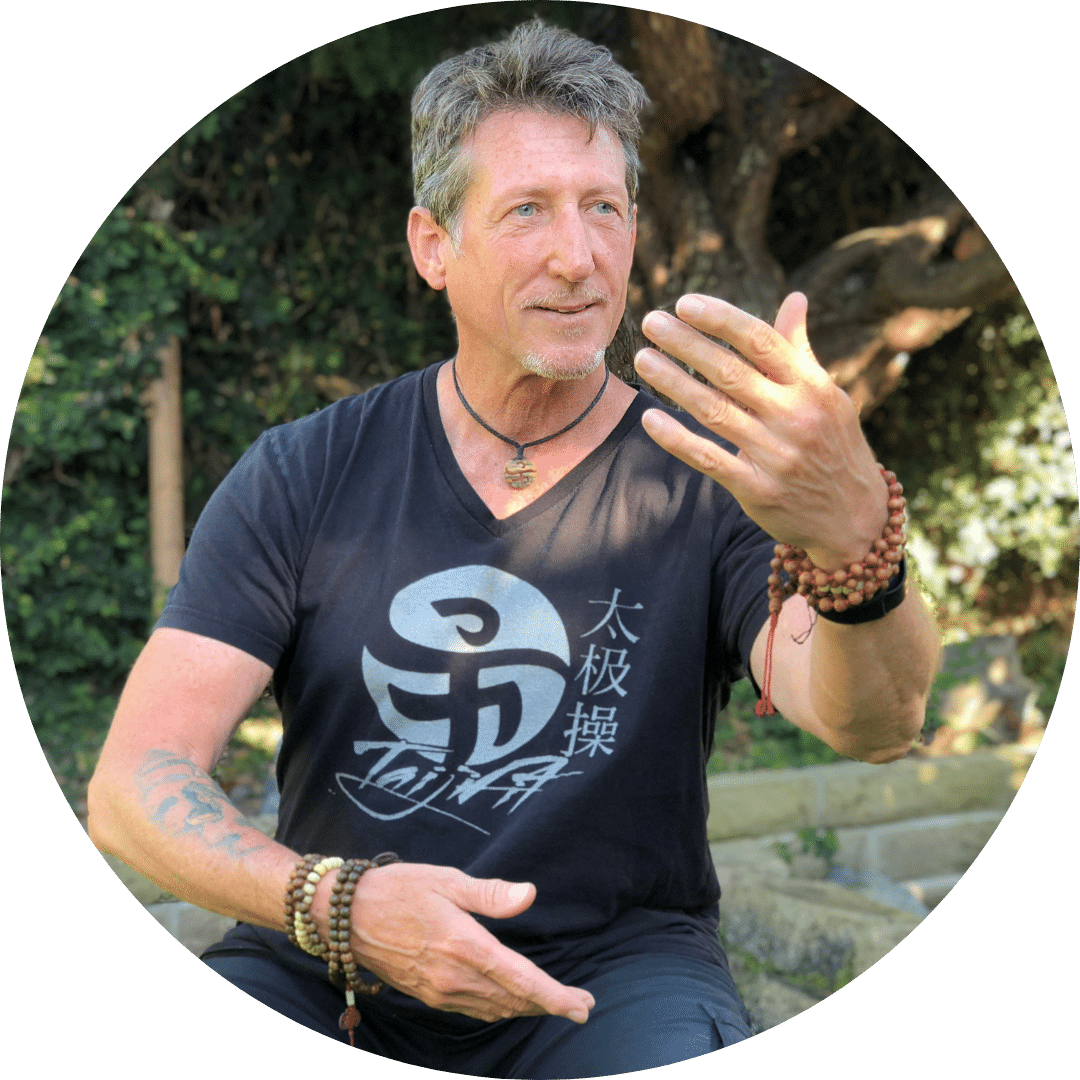 Flow is an innate Human quality. It's in all of us - you just need to remember how to bring it out.
Learn how with David-Dorian Ross (DDR), TaijiFit Founder. 
He trained in China with martial arts Masters and championship coaches. He's won 7 US Gold Medals and three world medals, the highest awards ever given to an American for international tai chi performance.
DDR's career as a teacher spans more than 40 years. He is a professor for the Great Courses, and the #1 best selling and multiple award-winning author of more than 150 video instructional and television programs. He's been a constant advocate that Tai Chi and all it's benefits should be accessible to anyone, and a joyful experience for everyone.
"Don't you want to find inner peace, tranquility and clarity? Come with me, and I will show you how. We'll find it together."
TaijiFit Evolved Academy
Instructor Training
TaijiFit 101 is the first of three 8-week classes on our Learning Path.
This course contains an overview of the TaijiFit Method, as well as an Original Flow routine to teach others.
Thousands have taken this class (or a previous version) and are sharing their love of TaijiFit with students in studios, online, public parks, etc.
Teaching is a great way to continue to learn, it's a win-win all around.
Some graduates don't want to teach, but take these classes to improve their own practice. It's up to you!
Step onto the path of better mental and physical health and join us.
Foundations
TaijiFit Foundations are our introductory classes and are usually your first step on your journey to becoming a TaijiFit Instructor / Conductor.
101: Original Flow
Learn the TaijiFit method, Original Flow routine, and start to build your repertoire.
200: Mastering Flow Conducting
Build on your 101 tools by adding cueing, safety, and become an expert at Flow Shows.
300: Philosophy of Flow
A deep dive into the philosophies behind TaijiFit, this is the final piece before graduating from the program.
Fusion Series
Fire Fusion will spice up your routine with Kung-fu kicks that calm.
Bamboo Fusion combines yoga and Tai Chi and is a favorite class for many.
Enough from us, why not hear from an actual student?
Heather is a long-time TaijiFit student and Bamboo Fusion teacher. She was drawn in by DDR's vast experience plus a high-caliber and supportive community. Thanks to her transformational experience with TaijiFit, she has found greater meaning and joy in her life, and is living and feeling better.
Our 2024 Schedule
This course is 8 weekly sessions and will be hosted on the following days:
Click here the view the Course Outline
Module One: Learning How to Play
Module Two: The First Three Notes
Module Three: The First Two Patterns
Module Four: The Float
Module Five: The Next Two Patterns
Module Six: The Story of Flow
Module Seven: The Way of TaijiFit
Module Eight: The Way of TaijiFit, pt. 2
Winter 2024
8 Thursdays on Zoom
12:00 pm PT / 3:00 pm ET
Thursday, February 8
Thursday, February 15
Thursday, February 22
Thursday, February 29
Thursday, March 7
Thursday, March 14
Thursday, March 21
Thursday, March 28
Spring 2024
8 Thursdays on Zoom
12:00 pm PT / 3:00 pm ET
Thursday, May 9
Thursday, May 16
Thursday, May 23
Thursday, May 30
Thursday, June 6
Thursday, June 13
Thursday, June 20
Thursday, June 27
Fall 2024
8 Sundays on Zoom
8:30am PT / 11:30am ET
Sunday, September 1
Sunday, September 8
Sunday, September 15
Sunday, September 22
Sunday, September 29
Sunday, October 13
Sunday, October 20
Sunday, October 27
Frequently Asked Questions
Learn How it Works
What's so awesome about being a TaijiFit Instructor?
Financially:
It allows you the ability to lead your own TaijiFit method classes. This could be at your local gym, your house, etc. It also allows us to register you as part of our network with the VA CCN, which means you get paid by the government to lead Veterans in TaijiFit sessions.
Spiritually: The Flow State itself is enough to want to deepen your TaijiFit practices, but being an Instructor means that you have the knowledge to spread this life-changing state with the world. Leaving good in one's wake is a primary reason that TaijiFit exists.
Physically: Movement is good for the body—we all know that. But did you know that Tai Chi has scientifically proven benefits such as higher immunity (that's so important in today's world), improved cardiovascular health, flexibility, and balance? Check out the Harvard study here.
Mentally: Stress is a killer. TaijiFit teaches you how to drastically reduce your stress response, which means an easier time for your mind and parasympathetic nervous system. You'll also find a sense of community here which is very important to our mental well-being as humans. And don't forget that Tai Chi by itself has been proven to increase memory retention and decrease the physical symptoms of neurological conditions, as stated in this article by Next Avenue.
How much are the courses?
If you subscribe to a Membership Tier, the costs vary based on your Tier and if you've used your coupon code in the current quarter. We recommend choosing a Membership Tier, as some of them offer 100% off discounts provided you maintain the membership for a period of time.
If you do not have a Membership Tier, the costs are:
TaijiFit Fundamentals: $75
TaijiFit Academy Classes (101, 200, etc.): $500
Note: All prices are in USD. All policies are stated on the purchase page of any TaijiFit product, course, membership, etc. and are subject to change at any time.
What are the physical requirements?
You must be able to do the Seated versions of the moves. If you have questions regarding what that looks like, be sure to
check out our YouTube channel here
.
We cannot offer medical advice and suggest you reach out to your health care team in order to determine if this is right for you.
Please note that some of the Fusion Courses may be more physically strenuous than 101, 200, and 300.
Do you offer Military Discounts?
Absolutely!
Before any purchase, please reach out to our team at [email protected] and let them know that you're a Veteran.
Because of the way our system works, we aren't able to offer the 10% Military Discount in conjunction with another discount. Our TaijiFit Veterans have let us know that they enjoy using their Military Discount to purchase a Membership Tier, and then they can use their Membership Tier discount to purchase classes, courses, etc.
Who can join the academy? Do I need experience?
Anyone can join regardless of experience.
What if I don't want to be an Instructor?
We have many people who choose to take TaijiFit 101, or even go through the entire Learning Path, just to deepen their own personal Tai Chi and TaijiFit practices. Much like any other Academy, just because you graduate doesn't mean you have to use your degree!
If you do want to be an Instructor but do not want to be part of the VA CCN, that's okay too. That is also entirely optional.
What equipment do I need?
You will need comfortable clothes and a willingness to learn.
You will also need a computer or tablet that has a camera, microphone, and speaker. You can use earbuds instead of a microphone and speaker.
We do require you to be on camera during the Live classes. These are hosted on Zoom, so you will also need a computer or tablet that is capable of using this software / app.